Tesla App for Android and iOS
Tesla provides a mobile app which enables customers to access their Tesla vehicle or Tesla Powerwall anytime and from any location. The app is available for free in Apples AppStore and Googles PlayStore. After downloading and installing the app you can log in with your Tesla account email address and password. To use the app your Tesla vehicle must be delivered or your Tesla Powerwall must be installed. Furthermore vehicle owners have to enable app access in their car using the settings menu of the center console. The Powerwall should be registered after the technicians completed the installation.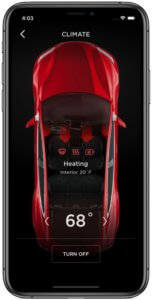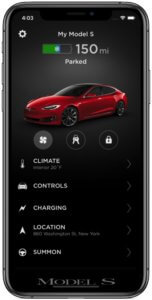 The following features are available for vehicle owners:
Overall Status:
The app provides current information about your Tesla. It shows your vehicles name and if any door, the trunk and frunk (front trunk) or the sun roof is opened. Additionally it displays the current estimated range.
Keyless driving:
Use the app instead of your key to unlock and drive your Tesla.
Controls:
Remotely unlock doors, honk the horn and vent your sun roof.
Climate:
Set the vehicles internal temperature before getting in by remotely turning on the climate control system. Adjust your desired temperature within the app.
Charge:
Modify the charge limit of your Tesla.
Summon:
If summon is activated the app shows a Summon button above the car. Clicking the button will open a new screen with two buttons "Forward" and "Reverse". Press and hold the buttons to control your car remotely.
Location:
Displays your vehicles and your current location in map or satellite view. Tap on "Directions" to open your phones default maps app and get a route to your vehicles location.
Valet Mode:
Activating Valet Mode hides personal data from the touch screen, locks the front trunk and glove box.
Tesla app walktrough: